Fernando Botero is perhaps the most famous contemporary Latin American artist , born April 19th, 1931 in Medellín, Colombia Botero is known for his paintings and sculptures of inflated and voluptuous humans and animals. As a teenager, he was greatly inspired by pre-Columbiana, Spanish colonial and modern Mexican muralism. He drew from the Old Masters in images which drew upon the figures of the bourgeoisie as well as political and religious figures which paid homage to his idols Francisco Goya and Diego Veláquez who produced similar formal portraits. The baroque, romantic and vibrant muralist influences created Botero's distinct vibrancy and boldness.  Throughout the 1950s, Botero experimented with proportion and size which greatly took shape when he moved to New York City in 1960. Here, his trademark style, known as "Boterismo," developed into various depictions of round, plump figures performing and engaging in various activities. In his paintings, specifically, he often referenced traditional Latin-American folk-art in his use of flat, outlined forms filled with vibrant colors; as a result, eliminating any evidence of brushwork making void of depth and texture.
Botero's curvy and round figures are depicted with lots of personality: rarely controversial, commonly filled with triviality. The inflated and robust proportions of the figures suggest an element of power, importance and/or political satire, commenting on their inflated sense of self. However, Botero focused his attention on scenes and nudes which possessed comic qualities. He challenged and satirized sexual mores in addition to his gentler illustrations of family.
The smooth-ness of Botero's paintings translated perfectly into a physical form: sculpture. In 1973 Botero returned to Paris to create sculptures in addition to his paintings. They were an extension of his paintings because it "permitted [him] to create real volume… One can touch the forms, one can give them smoothness, the sensuality that one wants."
"I never give particular traits to my figures. I don't want them to have personality, but rather that they represent a type that I create. My sculptures do not carry any messages, social or otherwise… what matters for me is the form, the voluptuous surfaces which emphasize the sensuality of my work." - Fernando Botero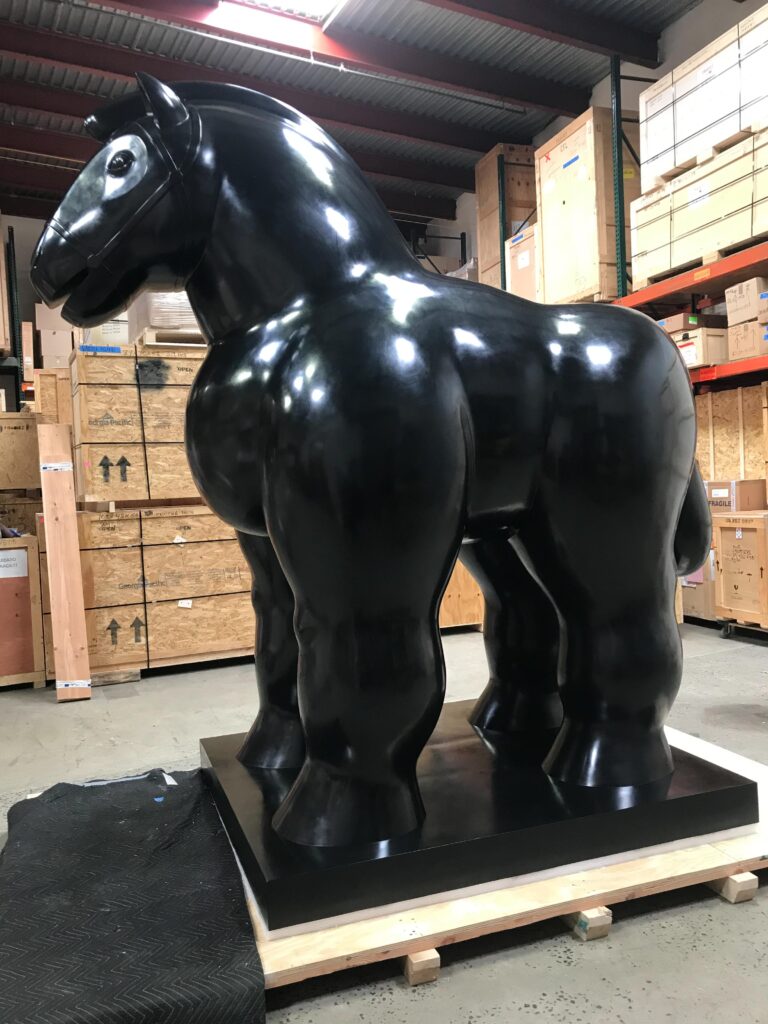 "Cavallo" (2007) Bronze — Private Collection
"Cavallo" (2007) is an overinflated, blubous, and muscular horse. The word "cavallo" translates to "horse" in Italian, which pays homage to Old Masters and the academic world of art. The bulging body and legs make the statue extremely imposing, acting as a bronze Trojan Horse.  As a viewer, you are overwhelmed by the complete dominance of the sculpture, a common theme throughout Botero's work. Despite the authority the "Cavallo" commands, its scale is juxtaposed with a sense of tranquility and balance. If the horse was divided in two, it would be completely symmetrical, and this symmetry is what creates this comfort regardless of the overshadowing effect it imposes on the viewer.
The horse's rectangular and firm mane references the classical imagery of the Trojan Horse and its straight and long tail gently rests on its thighs. The head seems to be very stiff, as if there is an invisible rider holding the reins tight. "Cavallo's" powerful round, muscular chest and compact body convey an energetic and mighty presence accentuated by its large scale, extremely reminiscent of the elegance and nobility of classical sculpture with its graceful and assured pose.
The artist's attention to finish and detail renders the sculpture's surface, creating a smooth, refined and undulating lines all the way around the work, a testament to the artist's pursuit of aesthetic perfection. Additionally, it brings to mind the artist's childhood recollections of Colombia where they are famous for Paso Fino horses.
"He has the greatest reverence for horses...his father rode a horse through the hills of Antioquia. Botero's equally affectionate evocations of all of his various animals remind us that he thinks of these creatures as integral to his own personal universe." - E. J. Sullivan, Botero Sculpture, 1984.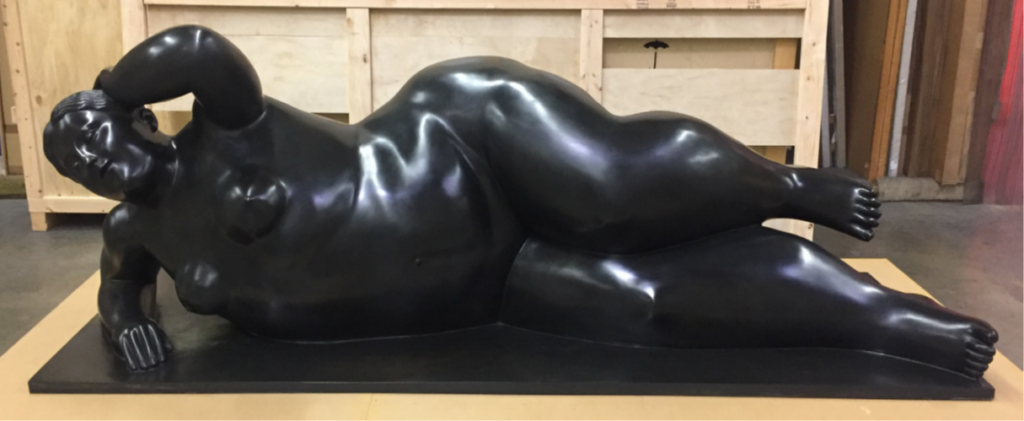 "Reclining Woman" (1992) Bronze — Private Collection
Botero's "Reclining Woman" (1992) is a flawless example of the artist's love of examining the fullness, abundance, and beauty of the female form. Here is Botero's various of the female nude; it is a practice that has been done throughout art history. "Reclining Woman" demonstrates' Botero's ability to create grace and elegance notwithstanding the inherent dominance in which it presents. The abundancy of the woman is contrasted with the refined details — the subtle curves, delicate features and gentle pose.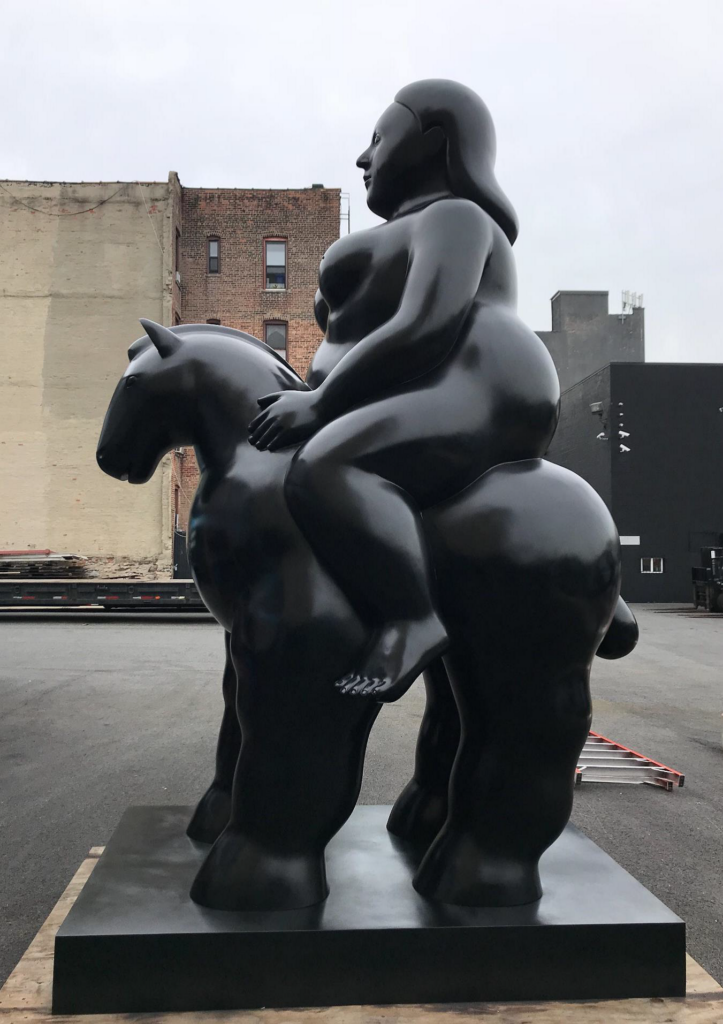 "Woman on Horse" (2011) Bronze — Private Collection

Lastly, "Woman on Horse" (2011) is Botero's unique way of blending the human and the animal together. Here, the lady and the horse passionately melt together through their exaggerated and disproportioned volumes. There is a sense in which the woman overpowers the horse due to her monumentality and placement. In a sense, "Woman on Horse" displays how irony and creativity generously play off one another.
The two figures, the woman and the horse, make for a powerful historic statement. Botero began to work on his bronze sculptures that rendered both human and animal figures into monumental beings, and "Woman on Horse" calls to mind the depictions of female deities and heroines. In a sense, Botero is placing this woman on a pedestal to honor her valiance and courageous pursuits.
"Botero's woman rides proudly and gracefully atop her noble steed, her hand gently and reassuringly placed aside its mane. Her nakedness not a sign of vulnerability but strength, her clothing removed as a device to immortalize her, embodying the l'éternel féminin, without reference to a specific time or place. As such, in her primary state, she remains in communion with her noble animal who mimics her proportions. She may be a goddess, a warrior or a girl at a theme park riding on a carousel, but her sense of gentle strength, her courage and her affinity with the natural world remain the same, here monumentalized by Botero's masterful hand."("Woman on a Horse." Fernando Botero (Colombian, B. 1932)
Article by Willoughby Thom